UAV-RT System
The Unmanned Aerial Vehicle-Radio Telemetry (UAV-RT) system is designed to receive and record VHF signals from tagged wildlife and assist in localization of the animal. Using an autonomous drone, outfitted with a companion computer and software defined radio (SDR), users can create flight plans, collect radio data, and generate localization estimates for the tag. The system fully integrates a science and flight avionics payload, capable of on-board data storage and flight plan generation. On-board the UAV a companion computer is responsible for synchronizing vehicle data and incoming radio signal. In addition, this system host a local Wi-Fi network allowing easy remote connections in a field environment. It is important to distinguish between the UAV-RT system's two subsystems: flight and science avionics. The flight system is responsible for vehicle control and provides a live telemetry connection to the ground control station. The science payload/avionics refers to the companion computer that collects the radio telemetry data, the SDR receiver, and the directional antenna. These subsystems are displayed graphically below.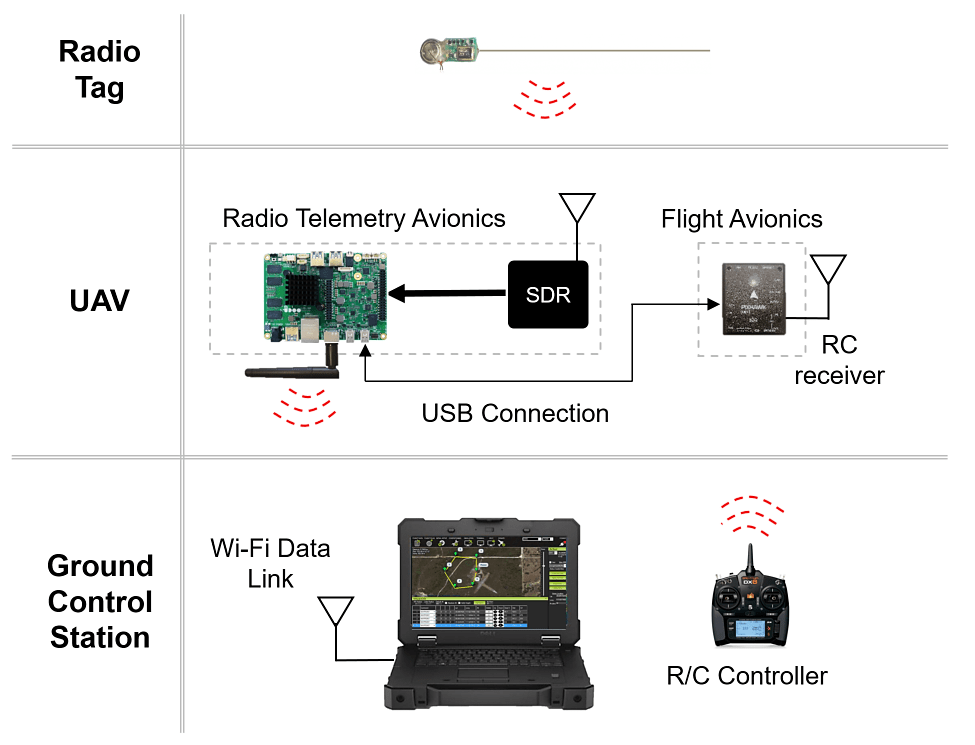 The UAV-RT system uses a Pixhawk mini flight controller from 3DR allowing for both manual and autonomous control. Communication between the ground control station and the vehicle is maintained by a flight telemetry radio module (915MHz). Flight plans are developed on a ground control station using either APM Mission Planner or QGroundControl software. These flight plans are typically transferred to the vehicle before flight, guaranteeing the vehicle can maintain a stable autonomous flight even if the vehicle loses live telemetry to the pilot; however, live vehicle commands can also be made from the ground control station. Additionally, the vehicle can be flown in a manual mode where radio data can still be recorded and analyzed. Full vehicle documentation provides complete build instructions and background research. In contrast to the flight avionics, radio telemetry is communicated to the ground control station via a local Wi-Fi hotspot. The science payload consists of an AirSpy (SDR unit), directional H-antenna, and an UDOO companion computer. The companion computer not only hosts a local network for remote communication, but also runs a GNU radio script which saves the received signal locally for post-processing. Upon landing a MATLAB GUI is used to access the data from the UAV remotely and process, producing a location estimate for the VHF tag. Full documentation on the SDR system is also available.
NAU EXPRESSLY DISCLAIMS ALL EXPRESS OR IMPLIED REPRESENTATIONS AND WARRANTIES INCLUDING, WITHOUT LIMITATION, MERCHANTABILITY AND FITNESS FOR A PARTICULAR PURPOSE, ANY IMPLIED WARRANTIES ARISING FROM ANY COURSE OF DEALING, USAGE, OR TRADE PRACTICE, WITH RESPECT TO THE SCOPE, VALIDITY OR ENFORCEABILITY OF THE COPYRIGHTS; AND THAT ANY INFORMATION IN THESE PAGES IS CORRECT.   IN NO EVENT WILL NAU BE LIABLE FOR ANY DIRECT, SPECIAL, CONSEQUENTIAL OR PUNITIVE DAMAGES (INCLUDING, WITHOUT LIMITATION, DAMAGES FOR LOSS OF PROFITS OR EXPECTED SAVINGS OR OTHER ECONOMIC LOSSES, OR FOR INJURY TO PERSONS OR PROPERTY) ARISING OUT OF OR IN CONNECTION WITH THIS AGREEMENT OR THE COPYRIGHTS, REGARDLESS OF WHETHER NAU KNOWS OR SHOULD HAVE KNOWN OF THE POSSIBILITY OF SUCH DAMAGES. NAU'S AGGREGATE LIABILITY FOR ALL DAMAGES OF ANY KIND RELATING TO THIS AGREEMENT OR ITS SUBJECT MATTER SHALL NOT EXCEED THE AMOUNTS PAID BY LICENSEE TO NAU FOR SERVICES ON THESE PAGES. THE FOREGOING EXCLUSIONS AND LIMITATIONS WILL APPLY TO ALL CLAIMS AND ACTIONS OF ANY KIND, WHETHER BASED ON CONTRACT, TORT (INCLUDING, WITHOUT LIMITATION, NEGLIGENCE), OR ANY OTHER GROUNDS.